August 2021

67°56′N 32°55′E
---
HIDDEN LANDSCAPES OF TUNDRA

English
---
In August 2021, I and Yura Borschev were invited to the
art residence
of
Monchegorsk
city located on the Kola Peninsul to participate in a creative project entitled "Art-Arctic" as curators.
This cohesive series of photographs originated from the idea that the Urban Exploration photography is not only about documentation but also the way to give new meaning to a particuar geolocation through photography in the context of geography and space. This also applies to the Landscape photography.
From the beginning, this project inspired by neon aesthetics, the Urban Exploration and the light painting technique #aeroglyph by Reuben Wu.
This is also inspired by a common subject such as "Portal" in science fiction. We were planning to draw light lines that were supposed to look like portals, no matter what shape they would be. At that moment, I loved the definition of the term "portal" in science fiction and fantasy that says the portal is a technological or magical opening that connects two distant locations separated by space and time.
Questioning reality through light and color is a way to draw the public's attention to the location. This is also a visual means of communication based on rethinking places and landscapes. Every place captured becomes a subject of discussion among people, a destination for Explorers and also a way to navigate. This increases the value of the image.
In this project, we use a light painting technique with a drone to illustrate fictional light portals connecting the landscapes surrounding the city.
---
Plus code: 9GVJJJXC+CH; coordinates: 67.648562, 32.621437

Plus code: 9GVMV2R7+V8; coordinates: 67.892187, 33.013312

Plus code: 9GVJJJW9+J2; coordinates: 67.646563, 32.617562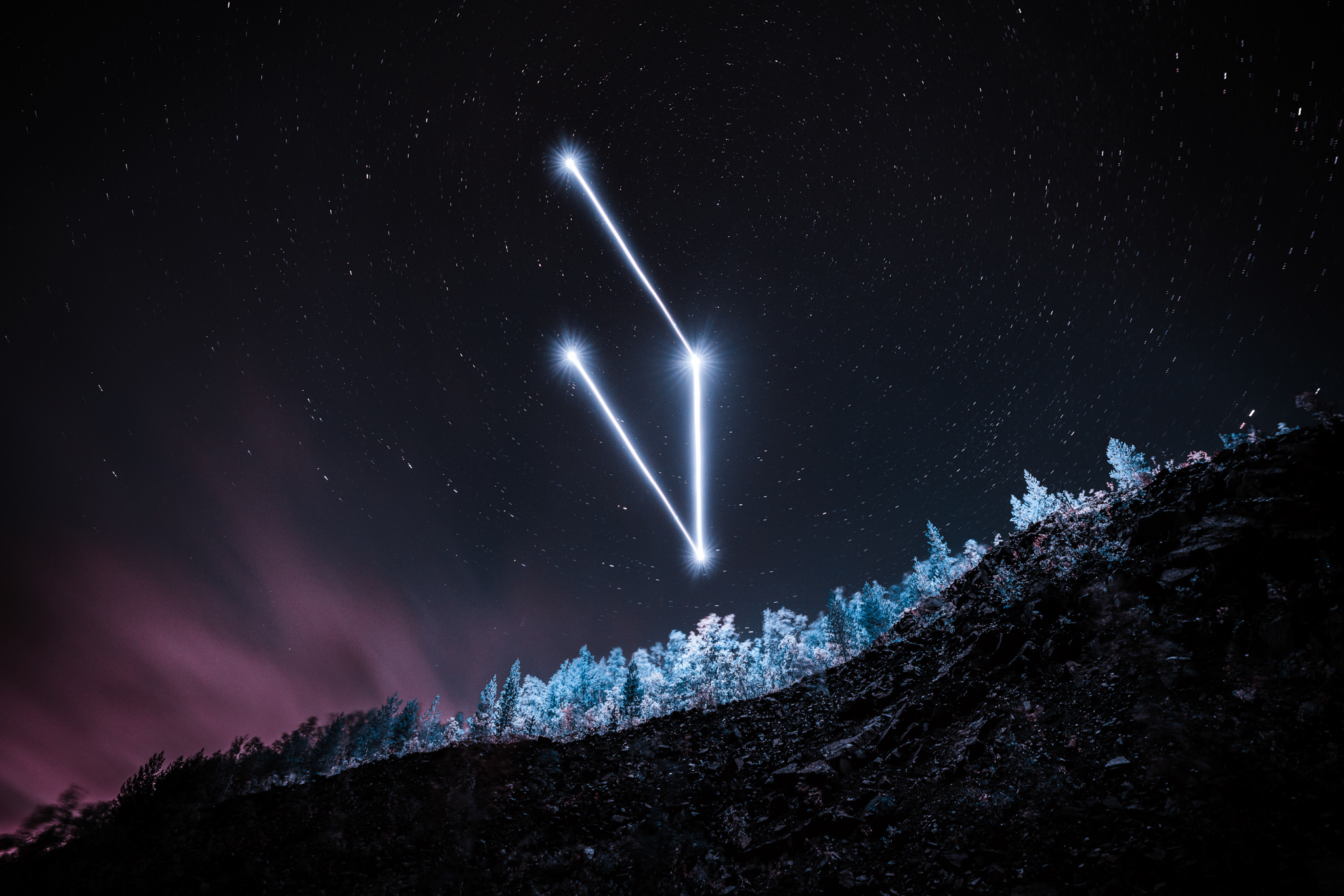 Plus code: 9GVMV3J8+4F; coordinates: 67.880313, 33.066187

Plus code: 9GVJWXQ9+24; coordinates: 67.937562, 32.967813
Plus code: 9GVJWQCX+R5; coordinates: 67.922062,32.797938
Plus code: 9GVMV2R8+X6; coordinates: 67.892437, 33.015563

Plus code: 9GVJJJW9+J2; coordinates: 67.646563, 32.617562

Plus code: 9GVMV3J7+7XP; coordinates: 67.880687, 33.064937
Plus code: 9GVMV3J8+4F; coordinates: 67.880313, 33.066187
Additional: 11/12 and 12/12
︎︎︎
Plus code: 9GVJWV7X+WW; coordinates: 67.914812, 32.899812
Plus code: 9GVJWR79+Q2; coordinates: 67.914438, 32.817563

---
August 2021
67°56′N 32°55′E